Flood Information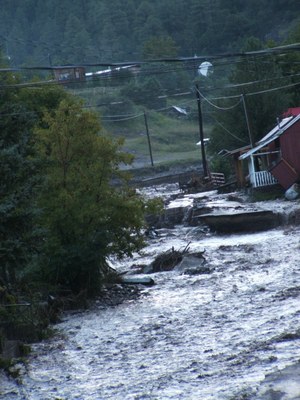 Mogollon Flood, September 2013.
Credit: US Forest Service
What is a Flood?
 
A flash flood is a rapid increase in flow along a stream channel that may allow the water to overflow channel banks and cause a flood. Typically during monsoon season (July through September) there is very little time between the storm event upstream and the arrival of the flood downstream, often under an hour. If this flood contains rocks, trees and other debris, it is termed a debris flow.
The National Weather Service provides information on the potential for rainstorms causing flooding in your area. They have a three-tier warning system to alert citizens of the threat posed by developing weather systems:
Flood Watch: Flooding is possible. Conditions are favorable for flooding but flooding is not definite.
Flood Warning: Flooding is occurring or will occur soon; if advised to evacuate, do so immediately.
Flash Flood Warning: A flash flood is occurring; seek higher ground on foot immediately.
For more information, visit www.floodsmart.gov