Before a Flood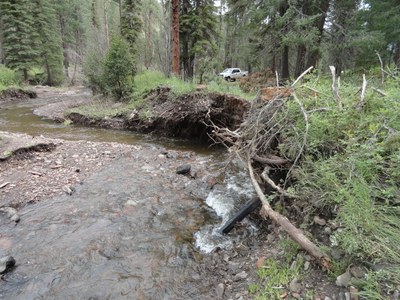 A top priority for flood preparedness is to purchase flood insurance. To find out more about flood insurance, go to www.floodsmart.gov. For other financial tips related to wildfire, click here.
If your property is located in an area in danger of post-fire flooding, remove hazardous materials such as chemicals from your home and outbuildings. You may move the hazardous materials to a location that is not in danger of flooding, or for information on disposal locations, click here, or contact the New Mexico Environment Department.
For techniques to help address flood hazard, see our Post Fire Treatments

section. For information on funding resources related to flooding, visit our

Who Can Help

page for community assistance and look for resources provided by the US Army Corps of Engineers.

USGS has a new process for predicting debris flows more quickly; they also may install real-time early warning rain gauges for communities affected by wildfire. Contact the New Mexico USGS Water Science Center to find out more.
For past USGS studies on debris flow hazards from New Mexico wildfires (Whitewater-Baldy, Las Conchas and Track fires), click

here

. This includes areas that are most likely to have the greatest debris flows, and may be helpful to areas also anticipating debris flows.