During a Flood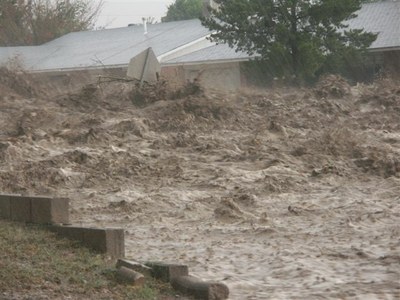 Flash Flooding in Alamogordo, June 2006
Do not walk through moving water. Six inches of moving water can make you fall. If you have to walk in water, walk where the water is not moving. Use a stick to check the firmness of the ground in front of you.
Do not drive into flooded areas. If floodwaters rise around your car, abandon the car and move to higher ground if you can do so safely. You and the vehicle can be quickly swept away. It can take only a foot or two of water to float or sweep away your vehicle.
NOAA Weather Radio: Listen to NOAA Weather Radio for information on flooding and other weather alerts.
Be aware of streams, drainage channels, canyons, and other low-lying areas that can flood suddenly. Flash floods can occur in these areas with or without such typical warnings as rain clouds or heavy rain.
If there is any possibility of a flash flood, move immediately to higher ground. Do not wait for instructions to move.
Do not attempt to walk across flowing streams or drive through flooded roadways.
If water rises in your home before you evacuate, go to the top floor, attic, or roof.
Listen to a battery-operated radio for the latest storm information.
Turn off all utilities at the main power switch and close the main gas valve if advised to do so.
If you've come in contact with floodwaters, wash your hands with soap and disinfected water.
If it is safe to evacuate, leave your home.
Secure your home. If you have time, bring in outdoor furniture.
Turn off utilities at the main switches or valves if instructed to do so. Disconnect electrical appliances. Do not touch electrical equipment if you are wet or standing in water.
For more information visit www.floodsmart.gov